About Our Driving School
Meet Our Driver Ed Team
Mr. Barry Bissell
In 2007 my wife, Stacia, and I decided to start Right Way. I have been involved with driver education since 1989. I enjoy the classroom and have had some great times teaching students the rules of the road. You will enjoy Right Way!
Mrs. Stacia Bissell
My husband, Barry, an already-certified driver education instructor, asked me what I thought about starting a driving school. Having three children at the time (ranging from eight years to six months), I hadn't really thought too much about driver ed since I had taken it a LONG time ago. I have been a behind-the-wheel instructor since 2008, and I absolutely love it! Meeting the different students and finding ways to help them with the driving skills that are most challenging for them has been my highlight. Since I also run Right Way, I will echo Barry's statement saying that you will enjoy our program!
Mr. Craig Foote
I am passionate about teaching young people how to drive and believe that Right Way Driver Education provides an excellent course of study for students to improve and master important driving skills.
Mr. Jeff Sabin
I have been with Right Way Driver Education since the spring of 2011 as both a classroom and a behind-the-wheel instructor. Highway and interstate driving are my favorite lessons to teach. I also really enjoy answering student's questions that arise during the classroom portion. During the school year, I teach math at Cedar Rapids Metro High School.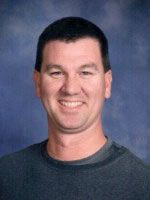 Mr. Joe Werling
I have been a driving instructor with Right Way Driver Education since 2010. I love the challenge of teaching students how to drive. My favorite part of behind-the-wheel is teaching the students how to parallel park. I always explain to them that my wife still will not parallel park and chooses to drive around the block for an hour to avoid it, so this is a very important lesson! The interaction between the students is awesome. Driver's education is truly a new adventure and milestone for the students and I am so glad to be a part of their success.